Leisuretime I
Next Wave, March 2022.



'It allowed us to experience the Yarra from an elevated plane that surpasses urban development and photographic practices: every single wave, shop and bike rider felt like it never had before. At the risk of sounding basic AF, it felt like magic.' — Diego Ramirez

Leisuretime I is a photographic intervention inside an operating tourist ferry on the Birrarung/Yarra River, made in collaboration with Aaron Claringbold, and guided by Catherine Ryan. Originally commissioned for the pandemic-cancelled Next Wave Festival 2020, the work was presented with Next Wave over a full capacity season of six shows from 27–29th March, 2022.

Led by our guide, audiences joined us onboard; seated within a giant camera obscura, to reflect on the ways that photography has shaped contemporary understandings and uses of 'natural' spaces within the floodplains now known as Melbourne. Anchored in the specificity of place, Leisuretime I considers the personal, geographic, and historical processes that shape seeing, and learning not to see.

In a one hour cruise downstream, sitting within a large, dark space, disembodied from the outside world, audiences experienced their surroundings reversed and upside-down, projected onto the vessel walls. Together they were invited to take in many of the sights this city has to offer; from floating riverside bars, outdoor BBQs, million-dollar properties, public toilets, yoga in the park, mega malls, and the oldest and largest surviving single dock in the world; asking, why did we get here, and how?

REVIEW ︎︎︎ Diego Ramirez, Leisuretime I, on Performance Review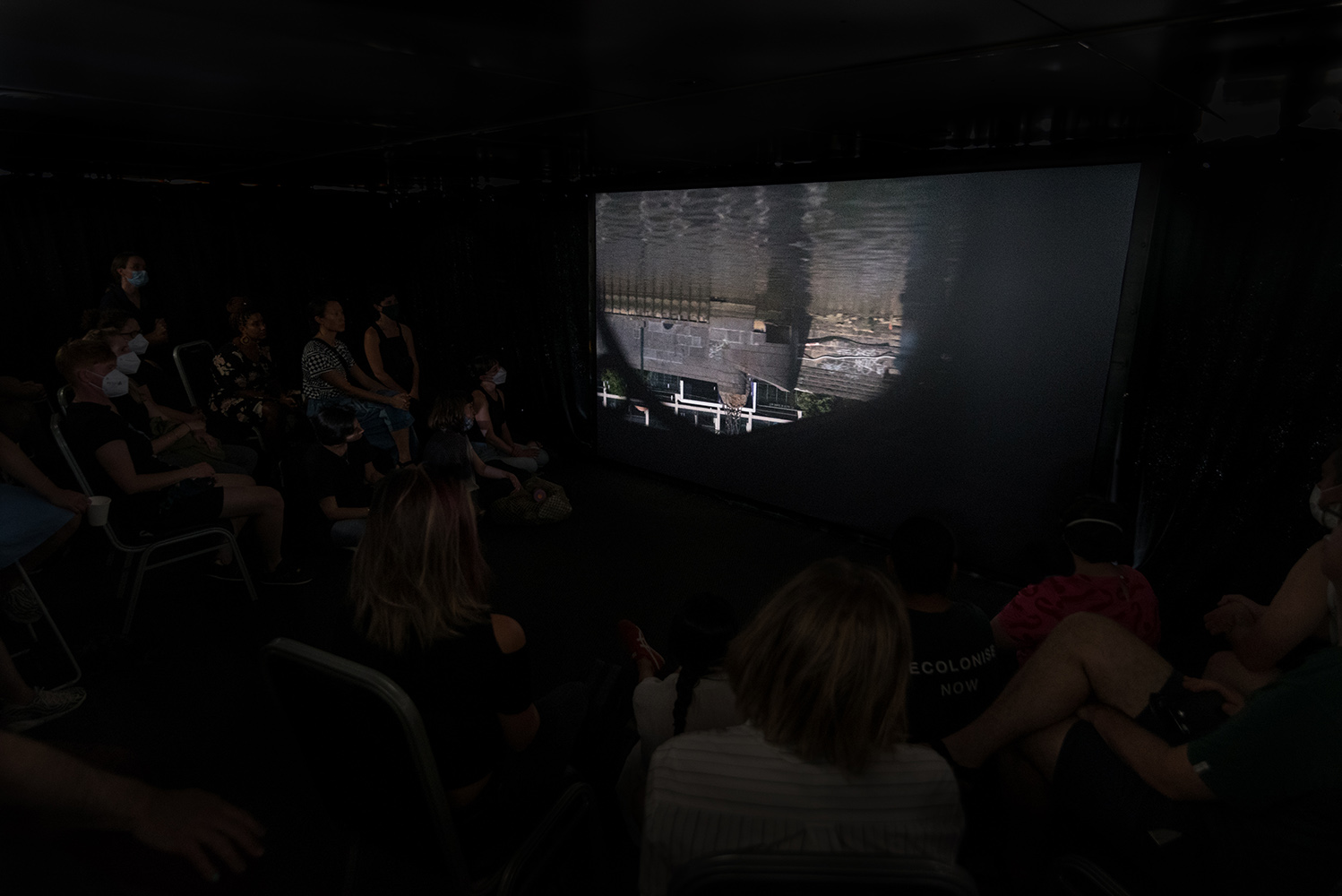 Lead artists — Aaron Claringbold & Rebecca McCauley
Performer — Catherine Ryan
Scripting and devising — Aaron Claringbold, Rebecca McCauley & Catherine Ryan
Mentors — Willoh S. Weiland, Steven Rhall & Kate Golding
Documentation — Keelan O'Hehir (outside) & Aaron Claringbold (inside)

Commissioned by Next Wave for Next Wave Festival 2020. 'Leisuretime I' was supported by the City of Melbourne Arts Grants Program 2020, Creative Victoria and Regional Arts Victoria through the Sustaining Creative Workers Initiative, the Australian Government through the Australia Council, its arts funding and advisory body, and RMIT through its Photo Futures Lab. Thanks to Jamie Lewis and all at Next Wave, Con and Yarra River Cruises, Julieanne Axford and Gail Smith at the Wurundjeri Woi-wurrung Corporation, Melanie Mackenzie at Museums Victoria, Tristen Harwood, Grace Connors, Christine McFetridge, APHIDS, Marcello Rotar, Katie Ryan and Paul Murphy.